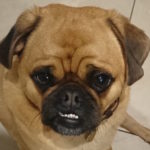 Hi there!
My name is Ollie and I've been made the new promotions manager at Natural5Four Records during December 2019.       So happy to be here!
This is my new blog page called 'Digital Bones'. Isn't it exciting?
You can read about me and my family, look at my new amazing Christmas outfit and hear about all the great things that are happening here at Natural5Four Records including a special Christmas offer on our new release 'Toogenblik – J Eoin In Concert'.
Out now on CD!!
Thanks for stopping by 🙂
Ollie x